Hunters and prey #1
Learn the basics of combat.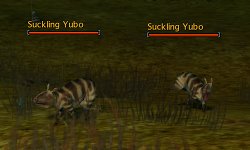 Fighting With a Weapon

To fight an enemy with a weapon you must first equip yourself with one. Click on your right hand in the Action Bar and select a weapon.

Next you must left-click on your target, and then click on the icon for the fighting technique that you want to use. You can find the icon in the Action Bar (at the top of your screen). You can, for example, use the basic technique called Default Attack.

Double-click again on the same icon (or any other fighting-technique icon) to keep hitting your adversary automatically.
Welcome homin. I am Guilan Guiter, commander of the Burning Spear, and a proud Fyros warrior, a people that have proven their masterful control over any kind of weapon.

Have you just arrived?

It wasn't hard judging by the weapon you carry there... Still I think you should know how to use it.

I will quickly explain the art of combat

It only makes sense that a warrior always carries his weapon in hand.
Certain weapons are 'one-handed' and are able to be used together with a shield or a dagger. There are also 'two handed' weapons

With your weapon in hand you can attack your target. At the moment you possess only 2 or 3 combat actions (in your action window at the top)

Standard attack:

Simple, this action does not consume any Stamina, the power necessary to use special actions, however this attack is not very effective

Accurate Attack:

This attack allows you to hit your enemy almost every time. The stronger your adversary, the more precise your attack has to be. If not, your adversary will dodge your attacks

Increase Damage:

This attack allows you to hit harder. The damage you inflict will be higher. Like your accurate attack, the stronger your adversary, the harder you have to hit

You see, it is possible to combine an accurate attack and an increased damage attack, and even more options in exchange for a higher Stamina consumption.

You can exchange your Skill Points earned in battle (press 'P' to see your personal information) for new combat techniques.
You could, for example, buy Increase Damage if you do not have it yet

I didn't bore you too much with my explanation? So then, prove to me you understood! Explore the surroundings of the encampment and show me you pose a greater threat to your adversaries than to yourself.

Kill 3 Suckling Yubos, Do not forget to cut them up and loot them. Come see me when you are done.

---

Well done! However, the task that you have just completed wasn't very complicated. That said, you now know that yubo meat tastes good, and that artisans can always find something to do with it. That's not a real challenge for a warrior, but everyone has to learn one way or another, don't they?
Before moving on to the next lesson, I strongly recommend that you go and see the Fight Trainer. He will be able to teach you new combat techniques or increase your physical capacity.
Talk to Utehes Isy.

Good day young warrior! I am here to help you progress. I will teach you to develop battle skills but also improve your physical capacities

The more you train, the more Skill Points you gain. You can then use those to learn new techniques at the trainers

I will give you some advice you might find interesting. Listen carefully

Constitution:

Improving your constitution will give you higher maximum Hit Points (HP), and you become harder to kill

Metabolism:

Metabolism is your ability to regenerate hit points. You can battle more enemies at the same time, and continue to fight longer before needing a break

Strength:

Your amount of Stamina. More Stamina ensures you can use your special, more costly actions more. Stamina is indispensable for any warrior. The only attack that does not use any Stamina is the default attack, but this is also the weakest

Balance:

Balance is your ability to regenerate Stamina points. Just as important as your Metabolism

I advise you keep those 4 up to date as much as possible. Augmenting your strength will also allow you to carry higher quality weapons which will inflict more damage.